CBCO Blood Drive Planned at TCMH
August 17, 2023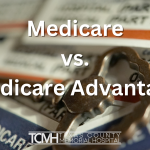 Medicare Open Enrollment Begins in October
September 11, 2023
Texas County Memorial Hospital board of trustees approved the appointment of Cheryl Maley, a registered nurse from Houston, as the new Home Health of the Ozarks and Hospice of Care director.  Centers for Medicare Services requires board approval for home health and hospice agency director positions.
Maley began her career with TCMH in 2012 as a certified nurse assistant in the home health department.  After completing training as a registered nurse, Maley was the case manager for Home Health of the Ozarks, and her most recent position at TCMH has been as the Hospice of Care case manager.
"Promoting Cheryl into this position will be a smooth transition for our staff and patients," Courtney Owens, TCMH chief nursing officer, noted. "Maley is a "homegrown" director, working throughout her career at TCMH and up through the various patient care areas to the director position."
Maley was the hospital's recipient of the Daisy Award in May.  "Cheryl is an outstanding and compassionate nurse who will do whatever it takes to get patients the care they need.  We are very fortunate to have Cheryl in this new role and look forward to having her as an essential part of our nurse management team."
Owens also reported to the board that TCMH Hutcheson Pharmacy will begin offering free delivery services to local businesses Monday through Friday.
"Grace Goslee, TCMH pharmacist, and her team have worked diligently to implement the new program," Owens said. "They understand everyone's schedules are busy and want to make accessing their medications as convenient as possible in providing this service to the community members of Texas County."
Owens explained that each patient must complete the enrollment and consent forms for the free delivery service available on the pharmacy's website at www.hutchesonpharmacy.org.
In nursing news, five full-time registered nurses, including three emergency room nurses and two house supervisors, attended the Emergency Nursing Pediatric Certification (ENPC) training course and passed their certifications.
"The ENPC is a training course designed to provide core-level pediatric knowledge and psychomotor skills to care for pediatric patients in the emergency setting," Owens said. "This is a significant asset for our hospital as these nurses now possess this specialty skill. We are proud of them for taking the initiative to receive the training since it is not required."
Additionally, six TCMH nurses have been trained as Sexual Assault Nurse Examiners (SANE). She explained that these nurses could help take care of patients who have been sexually assaulted.
"A room has been designated in the emergency room to perform the exam and protect the evidence obtained," Owens said.
According to Owens, the hospital has access to Tele SANE through Cox with a certified SANE nurse to help coach our trained SANE nurses to perform the exam.  "We are fortunate to have the capability to provide this service to our community when needed," Owens said.
Board members heard that Ozark Action CLAIM, a Missouri State Health Insurance Assistance program, will be at the hospital on Tuesday, September 19, from 9 a.m. to 3 p.m.
"This group will come with trained counselors who provide free, unbiased advocacy, education, and assistance to people with Medicare," Owens said. "They will provide facts regarding traditional Medicare and Medicare Advantage plans to allow the public to make informed decisions with their healthcare."
TCMH chief executive officer Stace Holland reported to board members about a recent visit to TCMH by Missouri State Senator Karla Eslinger and Representative Bennie Cook on August 14.  The legislators toured the new surgical center, with expected completion this fall.
Holland commended Tricia Benoist, MD, a family medicine and obstetrics physician at the TCMH Medical Office Complex, on her 15th anniversary with TCMH in September.  A celebration will be held in the Mayuga Café on Wednesday, September 20, from 3 p.m. to 5 p.m.
Helania Wulff, TCMH physician recruiting director, updated board members on current recruiting efforts, including an upcoming visit at the end of September with a psychiatrist interested in practicing part-time at TCMH.
Linda Pamperien, TCMH chief financial officer, presented the July financials. Overall expenses for the month were down $96,198, a 2.9 percent decrease.
The financial report reflected that the hospital's profit/loss report showed a negative bottom line for July of $445,432 and a year-to-date loss of $1,740,808.  The earnings before interest, depreciation, and amortization (EBIDA) for the respective month and year-to-date are negative at $216,121 and $100,111.
Board members approved $19,236 for replacement x-ray machine components at the Mountain Grove Clinic.
Present at the meeting were Owens; Holland; Wulff; Pamperien; April Crites, quality and risk management director; Tricia Benoist, MD, chief of staff; board members Steve Pierce; Joleen Durham; Allen Branstetter; Ross Richardson.
The next meeting of the TCMH board of trustees is Tuesday, September 26, at 12 p.m. in the hospital board room.