Houston Resident's Life Saved Due to Quick Response
July 10, 2023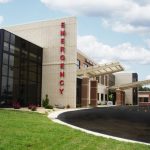 TCMH Leverages AI for Improved Stroke Care with New Grant
August 3, 2023
Texas County Memorial Hospital is happy to announce that Simmons Bank has awarded a grant of $3,500 to fund an automatic door installation at the TCMH Cabool Medical Clinic. This grant and a cash match of $3,005 from the TCMH Healthcare Foundation will meet the estimated project cost of $6,505.
The automatic door installation is a critical upgrade for the Cabool Clinic, designed to make it more accessible to patients, particularly those with physical impairments. The current manual front door has been problematic for many patients due to physical constraints and the strong southern winds that are typical in the area.
Stace Holland, TCMH CEO, expressed his gratitude for the project. "The automatic door will ease the burden on both patients and staff at the clinic. This new addition substantially upgrades our facility, embodying our commitment to providing superior patient care."
The project will have a considerable impact, with over 5,600 patients expected to benefit from the automatic door at the Cabool Clinic this year alone.
"Simmons Bank looks for ways to contribute back to the communities we serve, and one way we identified was to provide funding to our local TCMH Cabool Medical Clinic to go towards the purchase of their new electronic door," said Amanda Wilson, Simmons Bank branch manager. "We appreciate all that TCMH does to serve this community and look forward to opportunities to partner with them again."
Jeff Gettys, TCMH director of projects and foundation, echoed these sentiments: "This project exemplifies our ongoing dedication to improving the patient experience. We're extremely grateful to Simmons Bank for their support. This contribution doesn't just buy a door; it creates an accessible, patient-friendly environment, enhancing the patient's experience."
To honor this significant contribution from Simmons Bank, TCMH will install a plaque near the new automatic door to recognize the bank's pivotal role in enhancing Cabool Clinic's patient access. The plaque will serve as a daily reminder of Simmons Bank's generous support and commitment to improving community healthcare.